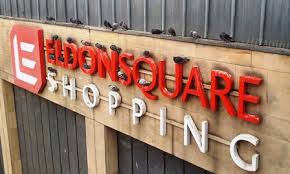 Before
Business Ledge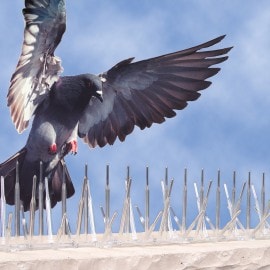 Roof Ledge
Store Signs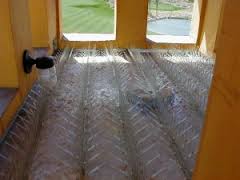 Extra Wide Area
When birds are allowed to roost or nest on buildings, they can leave an unsightly mess behind. Birds can also spread harmful diseases. Keep your residential or commercial buildings clean and free of birds by choosing Razor Fencing for your bird spike product needs.
Razor Fencing proudly serves the different locations in all over the US, and we ship our bird spike products free to anywhere in the continental United States. Our bird spikes are safe and effective and are the number one bird control product recommended by architects, building managers, and U.S. government agencies.
Bird spikes can be installed on windowsills, rooflines, eaves, or anywhere migratory birds might roost. The spikes serve as an effective deterrent, keeping birds away without harming them. Our bird spikes provide the widest coverage. The durable plastic construction is UV protected and weatherproof for years of use. Razor Fencing's bird spikes are sold in 2 foot sections with 50 feet per box. Bird Spikes provides the widest coverage of any physical bird deterrent! The one-piece rigid construction will deter any size bird (from sparrows to seagulls) from landing and roosting. One row of bird spikes will cover twice the area of any other spike product.
Razor Fencing is your unbeatable choice for service and selection. We also offer a range of other products, including windscreens for privacy and protection and razor wire products. Call us today or contact us using our online form for a fast and free quote.
Recommended by all major animal rights groups as safe & effective
The exteriors of high rise residential and commercial buildings need to be maintained intact. Apart from the dust and other unhealthy particles being deposited on the exterior walls and window glasses, the mess and dirt left behind by the birds that are allowed to nest or roost on these buildings could be a great issue. The dirt left behind the birds not only harms the aesthetic appearance of the building, but also causes several health issues such as allergic reactions for the inhabitants.
We at Razor Fencing offer bird deterrent spikes that can be easily installed on the flat portions of the exteriors of the buildings, where the birds can start colonization. These spikes would not hurt the birds in any way; however would not allow the birds to land on the horizontal portions. Thus your buildings would be free from birds and the subsequent problems created by them.
The Industry Leader
Before After ImageThis is America's #1 Spike system for eliminating Unsightly Bird Droppings and Health Related Problems. And, the system works! Bird Spike products are currently being used by millions of people and companies World Wide. Be sure to check out our bird spikes. You'll ove 'em and the birds will hate 'tm.
Most Affordable
UV Protected / Sun and Weather Proof; Not affected by Extreme Temperature (-210 deg F to 310 deg F)
Here at RazorFencing.com, we are comitted to top notch service, seven days a week and we make it quick and easy for you to order and receive delivery from us. Call us anytime at 1-800-474-1804 and we'll have the answers to whatever questions you may have. We are here to serve you, at your conveience.
Dimensions
Bird Spikes are sold in 2 foot sections with 50 feet per box.
Bird Spikes provides the widest coverage of any physical bird deterrent!
Its one piece rigid construction will deter any size bird (sparrows to seagulls) from landing and roosting.
One row of Bird Spikes will cover twice the area of any other spike product.
Prevent Your House From Invade Of Birds
Spikes opt to be one of the most effective bird deterrents to prevent the landing and roosting of the birds in the surrounding. With time, long-term cost-effective success has been noticed with the use of pigeon spikes not only in the commercial industries but appeared as an explosion in the residential community. Birds like pigeons seagulls, crows, and many other similar-sized birds can be stopped from causing any damage to your house or plow. Spikes are found to prevent all of the activities of birds such as perching, loafing, and sitting over the flat surface. We have introduced Bird spikes with extreme care to provide a finished product that causes no harm to birds anyways.
Manufacturer warranties:
Bird problem a lot, so it is necessary to fix it with a durable product that continues for decades and decades. For the production of the spikes, higher quality material is used which comes along with manufacturer guarantees and warranties. We offer spikes made of various compositions such as UV stabilized polycarbonate plastic spikes or spikes made of stainless steel material that could easily match the aesthetical aspect of your structure.
Plastic spikes are accompanied with 5-year manufacturing warranty
Stainless steel spikes come with 10 years manufacture warranty
Where to install?
Bird spikes are considered to be suitable for the horizontal surface like roofs, ledges, parapets, fences, and other areas that can be easily perched by birds. It is a perfect measure for bird control therefore it is needed to be installed on the outer edge of the problematic area. The placement of several spikes entirely depends upon the depth of the ledges. For complete protection, you need to add more than one row of spikes. But, it is strictly recommended to not use it in the area where the bird has their nesting.
Feature and benefit we offer:
Keeps away birds like pigeons, seagulls, or large-sized birds that are found frequently in our society
It does not harm the bird, human eye, and installer
Easy to install and can even be glued, screwed, or can even be tied
Pre-assembled, two-footed sections become the major reason behind the reduction of installation time.
Resistive to weather and temperature too
Mega 7" spike options are quite helpful in preventing roosting
Do you need anti-bird spikes installation? Then we are here to help you out 24 X 7. We offer customized quotes for bulk orders. So, please get in touch with me as soon as possible.